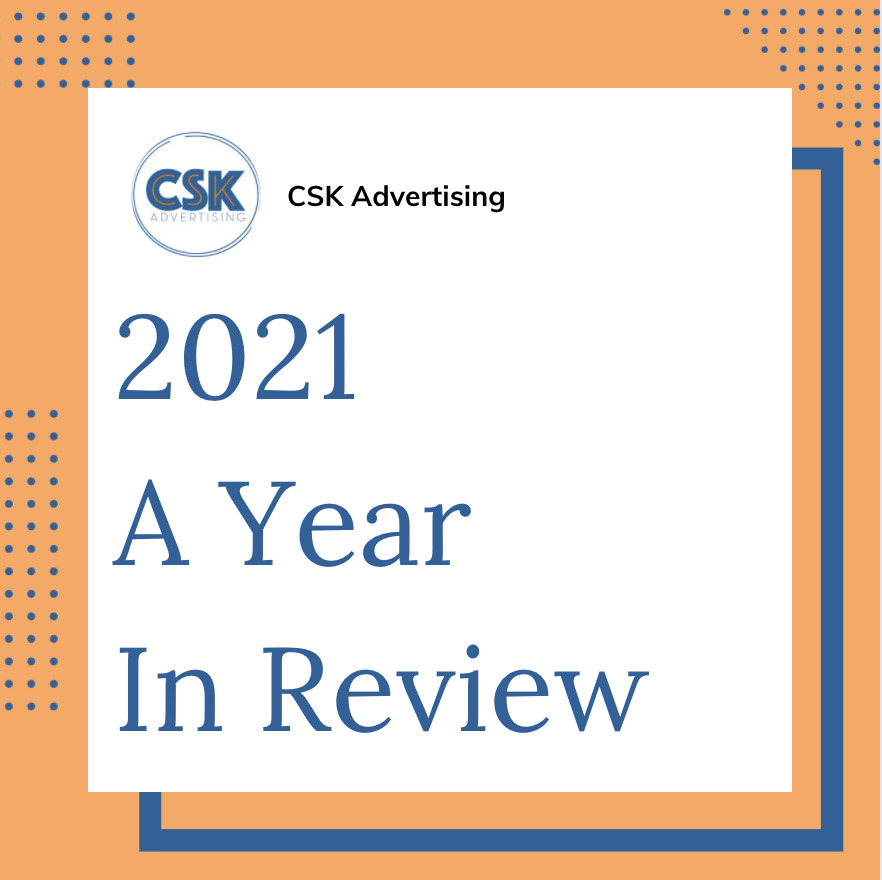 26 Jan

A Year in Review

This past year has been quite the rollercoaster full of uncertainty, hope, and growth.  We have had to dramatically adjust our daily lives and work habits to protect ourselves and others which have led to new and improved practices and innovation.  Here at CSK, we have taken advantage of this period of time by building upon our already extensive knowledge of media buying and advertising as well as expanding our skillsets to benefit ourselves, current clients, and future clientele. 
Employee Enlightenments
Each of our employees has listed the various ways in which they improved their craft and other things they learned in 2021 that will help them this year.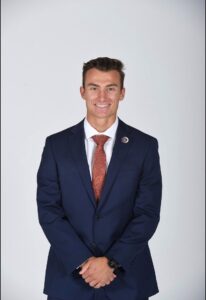 Dylan Jones our Senior Media Analyst.  He specializes in Digital Media with experience in Search Engine, Display, and Social Media Marketing. Here is a list of things he learned in 2021:
Privacy changes causes changes to ad platform tracking
             With growing interest in tracking and privacy, many companies (with Apple leading the charge) took extra measures to give users the chance to not share their data and information with advertising platforms. This has caused changes to digital marketing in a few ways: limits on how people can be targeted, what information can be tracked after someone clicks on an ad, and what sort of information the platforms know about people. This means advertisers will need to be more creative about how to reach their targets and know that they will not have nearly as much data on which people are leading to down-funnel conversions.
Google doing away with expanded text ads
             As Google improves its machine learning capabilities in their search engine marketing platform, they will be forcing more marketers to use ad types that Google can control what copy is shown. Expanded text ads (marketer has complete control over copy) will no longer be available as of June 30, 2022. This means marketers will need to use responsive and dynamic search ads to continue using the Google ad platform.
Gmail Ads Out/Discovery Ads In
            Similar to the discontinuation of ETA's, Google halted Gmail ads in July of 2021. They launched the Discovery ads type in late 2019 and have decided to phase out Gmail ads. This does not mean you cannot have ads placed in Gmail (one of the Discovery placements is Gmail), it just means that you will also be showing the ads on other placements like YouTube and Google's Discover platform.
New Google Search Ad Extensions
            In the last few years, Google has introduced a few new extension types: image extensions and lead form extensions. As Google gains more and more data on the performance of them Google is pushing more advertisers to use them to improve performance.
Modified Broad Match Types Done
            Google has decided to remove the modified broad match type as an option when selecting keywords to bid on. Though broad match is still an option, the modified broad option is no longer. This match type allowed marketers to make sure specific terms are in the searches even if they are still on broad match type. This means the leap from phrase match to broad match is even larger and if advertisers want to use the broad match type, they need to be willing to reach a very wide range of search queries.
Dylan is a great asset to the company and we cannot wait for all of the great things he will do this year along with the things he will learn to help CSK and our clients.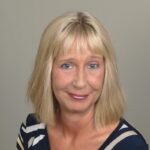 Amy Gustafson is our Media Coordinator.  Her experience includes both building and managing media buying teams. Amy has built relationships across the country in both local and national media outlets so she has years of experience negotiating media buys. She has a reputation as a tenacious negotiator but has the highest respect from both media partners as well as clients. Over the course of the year, she has compiled a list of things she has picked up from her experiences.
Every business pitch educates us more on process, content, or the business category
            This year we learned about a variety of categories with emphasis on the entertainment and auto categories.
Perfecting Recruitment Advertising
            CSK saw a growing need for recruitment advertising in the last year with many different clients and categories.  The pandemic led to mass layoffs.  Now that we have the vaccine we are continuing to push through to get back to normal.  This means getting back to hiring workers to run businesses. Companies have struggled to enlist help, luckily our agency has helped numerous clients navigate through "The Great Resignation" and we now have recruitment advertising down to a science.
Navigating media landscape and enhancing our OTT capabilities
            The fast-paced, evolving nature of the media landscape makes it hard to sometimes keep up.  Each day there is something new that changes the way that people get their news and entertainment.  Here at CSK we are constantly researching and updating ourselves with the latest trends and understanding how people interact with technology and how they access that news and entertainment content no matter the channel.  One example is monitoring the exploding trend of consumers accessing content via different OTT platforms
Understanding the effects of the pandemic on consumers media choices/habits
            The COVID-19 pandemic has forced us to change many components in our lives.  The virus has drastically changed the buying habits of consumers.  Now more than ever people are using electronics to connect with people to avoid the feeling of isolation.  Additionally, the average consumer has turned to electronic and contactless ways of purchasing as opposed to brick and mortar.  This technology-centered way of life has increased the need for digital advertisements.
Amy plays a crucial role in our company's success.  Her skill, dedication, and hard work are truly admirable.  We are excited to see all that she will accomplish in 2022.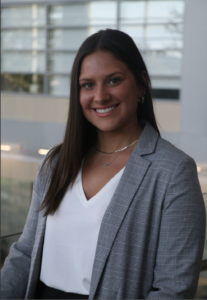 Emily Kroner is our Intern. She has been with our team since May and has continued while finishing up her senior year at Penn State.  She has been creating the posts that go on all of our social media platforms as well as running our accounts.  In the process, she has gained a mass amount of knowledge and valuable new tools.  Here are some things that she has picked over the course of her internship:
Content Creation
            At the beginning of her internship, Emily did not think she was going to be able to create images for our social media platforms.  After weeks of trial and error using Canva, she has mastered the program and is able to produce amazing images specific to the CSK brand.  In addition to posts, she has designed business and holiday cards.
Google Ad campaigns
            One skill Emily was eager to learn was how to run Google Ad campaigns, a necessary ability for a professional in the digital marketing and advertising world.  Through the help of other CSK employees, she was able to manage a client account and our very own campaign. From her experience, she wrote a blog article explaining the positive impact of negative keywords in Google Ads.
We are always looking for ways to better our agency and ourselves.  Extending our knowledge is a part of our daily practices and makes a large impact on the quality of the services that we provide to our clients.  2021 has blessed us with bountiful knowledge that we will take into 2022.