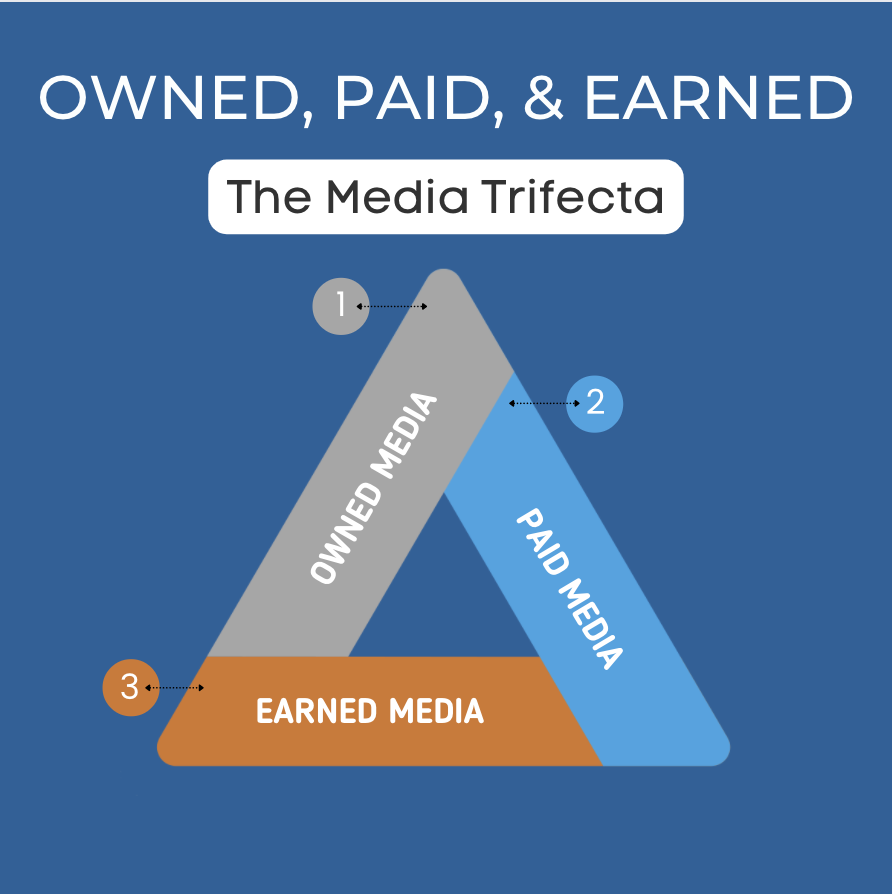 11 Mar

Owned, Paid, and Earned: The Media Trifecta

Looking to take your digital media strategy to the next level?  Well, you are in the right place. There are three key types of media; owned, earned, and paid.  Think of each type as a separate leg of a triangle, if one side is off then the whole triangle is unbalanced and unstable.  To have the strongest media presence you want to utilize each category in the Trifecta to boost your business and maximize your content creation efforts.
Owned Media
Owned Media is any web property that a company owns and controls.  Common examples of owned media are a company's own website, app, Facebook, Twitter, Instagram, and blogs.  Below is an example of CSK's owned media, our website.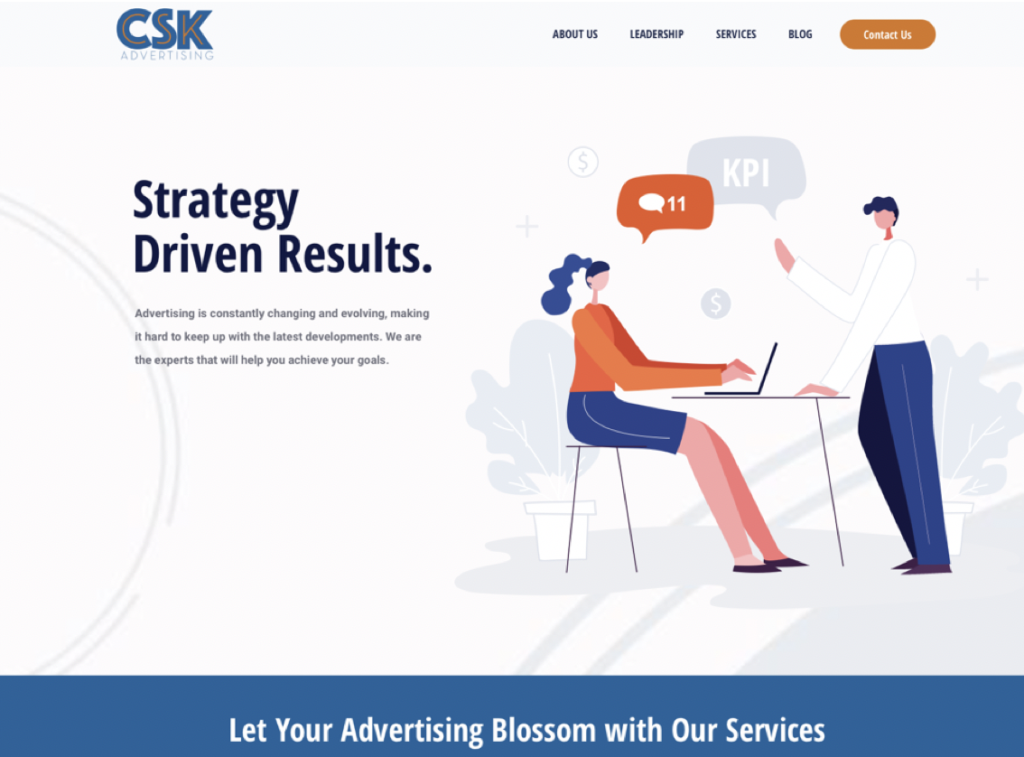 This key type is only managed and regulated by a brand and is an integral piece when it comes to building a brand and finding new clients.  Owned media is very valuable because it gives the brand total control over messaging being delivered and the overall company image.  It is the backbone for a brand and works alongside earned and paid content to increase lead generation and engagement.  A company's owned media is many times the landing page for paid media, so it is imperative to have consistent brand messaging and keep the user's attention.  If a brand has mediocre owned media such as their personal website it may deter customers from continuing on to the purchase stage.  Owned media is not only completely controlled by the brand, making it the easiest to pivot for performance improvements, it also casts a wide net into both earned and paid media. Therefore, it is paramount that a brand constantly updates and optimizes its owned media to improve all aspects of the media trifecta.
Earned Media
Earned media is publicity or attention that is organically generated from a brand's content.  Essentially it is word of mouth from consumers.  This type is different from paid and owned media because you have no control over what is being said, it is completely up to a customer. It is free and seen as credible and genuine because it is a customer's unfiltered opinion and the brand has no say.  While it is slightly difficult to gain, it is very beneficial for a company and is the most influential media type.  The ROI will always be higher than any other media investment such as paid and owned media because earned costs nothing. The most common forms are customer posts & re-posts regarding the company, media coverage on the company, online reviews, shared videos & pictures, and word-of-mouth.  Earned media captures the attention of potential customers for free and sends them to a brand's owned media.  Think of it as a car that takes a customer to their destination, owned media. Therefore, this media type is a key leg of the media triangle as it creates website foot traffic, customer engagement, brand awareness, expanded reach, high ROI, and in case you forgot, it is FREE.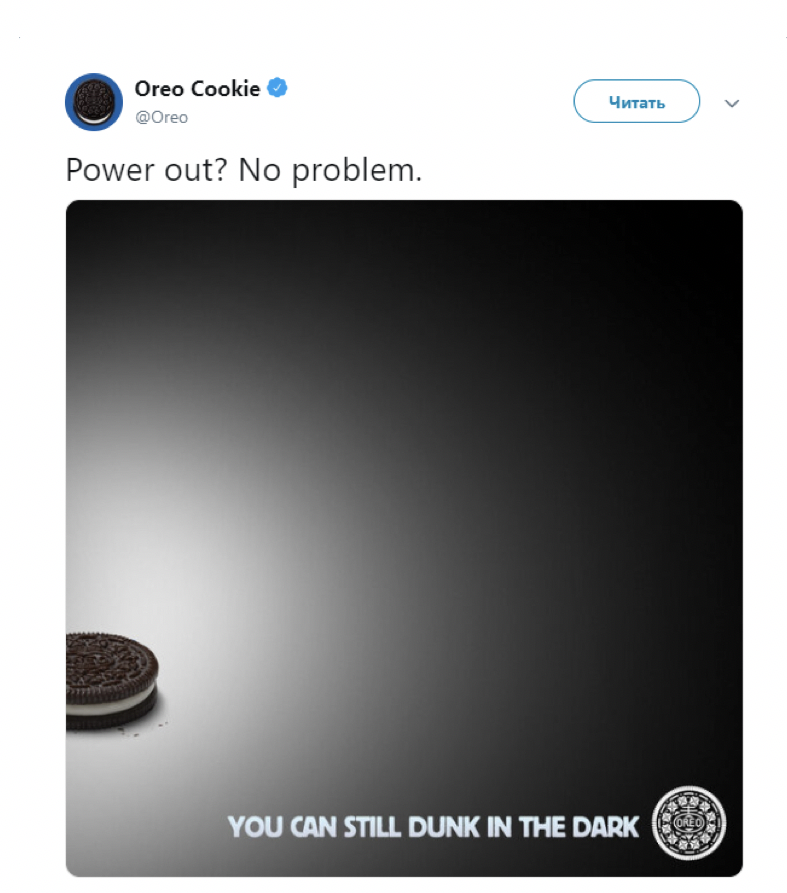 The most famous spout of earned media was from Oreo labeled, "Dunk in The Dark".  During a power outage at Super Bowl XLVII Oreo released a tweet that is pictured below.  This single tweet generated 15,000 retweets, while the Facebook post recorded approximately 20,000 likes. This image also accumulated $525 million in earned media impressions.  While Oreo is a large corporation, this is meant to show you how influential earned media can be and the success it could bring to a business.
Paid Media
Paid media is simply the marketing that a company pays for. It is used to promote content that drives traffic to owned media properties. This could be TV & radio ads, magazine ads, direct mail, website banner ads, SEM/paid search, and ads on social media. Pay per click (PPC) campaigns along with display ads help in retargeting efforts to direct searchers to owned media pages like a company's website and in turn increase conversions and conversions. The image on the right shows how Rent the Runway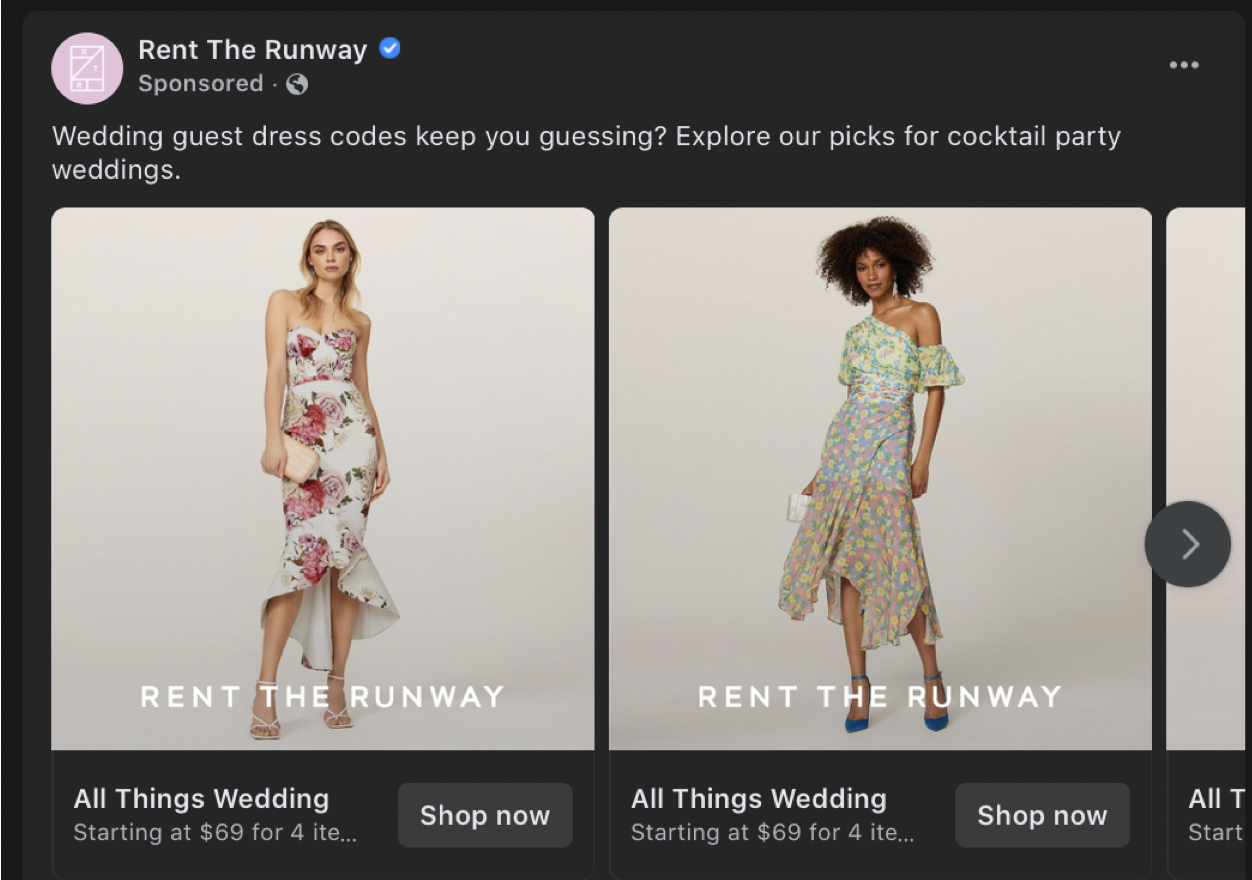 utilizes campaigns on Facebook to generate leads and increase brand awareness. Much of paid content is directed toward strangers to get them to visit a site and start their customer journey with your company.  Additionally, paid media can help to get more earned media and consequently a purchase/ new customer.  For example, if someone sees Rent the Runway's Facebook ad they may or may not purchase but they follow the brand's Instagram account.  Later, the same user reshares an organic post from Rent the Runway, and the brand receives an additional 200 impressions from the user's followers.  One of those impressions then visits the brand's website and becomes a customer.  So, while paid media may not directly lead to a purchase, it can capture a user and work in combination with other media types to turn them into a new customer. So, paid media is a great way to promote content, drive traffic, and also generate more earned media.  
As you can see each media type is necessary for a successful media strategy.  Individually they attract leads and promote the brand.  When enacted together they create the recipe for a perfect media strategy.  Need more assistance with your own digital media strategy? Contact us today!